Somrak Family; Leaders in kitchen and bath industry for over 70 years.
Somrak Kitchens has brought an unsurpassed standard of excellence in innovative kitchens to the Greater Cleveland area for more than 70 years. Along the way we've built a solid reputation for providing the finest cabinetry, superior craftsmanship, design expertise and dedicated service, while always considering the requirements of our distinguished clients.
Visit our showroom and we'll help you create a kitchen that will make all your labor seem like a piece of cake.
History of The Somrak's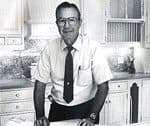 Somrak Kitchens has a heritage of unparalleled excellence dating back more than 70 years. Every kitchen is an original, and with every project we strive to exceed the wants and needs of our clients. One of the key factors of our success is our ability to listen to our customers' desires and provide them with kitchens that surpass their expectations.
The company was founded by Robert A. Somrak Sr. With more than 70 years experience as a professional in the cabinet industry, Mr. Somrak brings a wealth of knowledge to every project we do. Early in his career, Mr. Somrak developed a network of contacts and clients throughout the United States, and built a solid reputation for providing top quality products, creative solutions and excellent customer service.
Our first showroom was located in a small strip mall on Euclid Avenue in Euclid, Ohio. In 1980, we moved the showroom to Bedford Heights where the business continued to grow and supply the needs of a very discerning clientele. We built our present East Side showroom in the Ohio Building Mart in 1990, as a showcase for the latest in cabinetry, appliances and state-of-the-art kitchen technology. It was created to capture the custom cabinet market, concentrating specifically on the design, sales and installation of cabinets and related components for creative projects.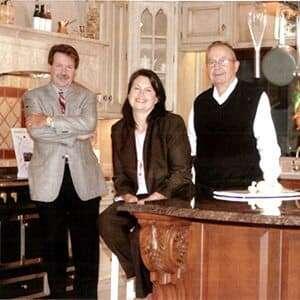 Talented Staff of Design Experts
Our team of sales designers at Somrak Kitchens is equipped with the tools, knowledge and talent to turn your dreams into reality. With well over a century of combined experience, our award-winning team takes pride in its ability to develop innovative ideas and to create unique custom kitchens. The team at Somrak Kitchens stands out from the competition by keeping informed about the latest trends in kitchen design using only top-quality products.
The sales designers at Somrak Kitchens all have accredited degrees in their field and are then also trained by the National Kitchen & Bath Association. To ensure professional ethics and performance, our designers comply with the laws, customs and procedures set forth by the Board of Governors of Societies of Certified Kitchen Designers as specified in the Society of CKD Code of Professional Conduct.