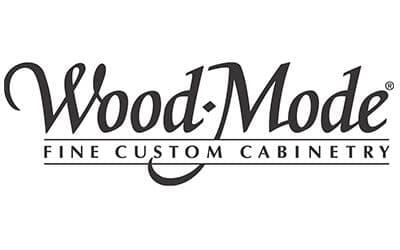 Wood-Mode Fine Custom Cabinetry brings 80 years of experience to every custom project, constructing your cabinetry in-house specifically for your home design. Professional cabinet makers design and build your cabinetry as a unique expression of your kitchen, bath, anywhere in your home.
For custom quality in a semi-custom cabinet that fits your needs and your budget Brookhaven cabinets by Wood-Mode include many standard features, such as solid maple dovetail drawers, adjustable shelves, and stained finishes. The Brookhaven line has been a popular choice among builders and homeowners for its reputation as a high quality, affordable kitchen cabinet.

With 40 years of experience crafting the best in wood furniture and custom cabinetry, Bridgewood Custom Cabinetry is a great choice when you are looking for high quality materials and the ultimate in skilled craftsmanship for your kitchen. Made in the USA, this product line provides an affordability that fits most budgets without giving up the high-end feel and look customers seek. Your Bridgewood custom cabinets are always built to your specifications, making your kitchen uniquely your own.

When it comes to outdoor cabinetry designed for any climate or season, there's no better choice than what DeSavino & Sons offers! Open Air cabinets are skillfully designed to not only look great, but last a lifetime. Enjoy nature in all of its glory with Open Air Outdoor Cabinetry. Whether looking for outdoor cabinets to stand up to the humidity in Florida or changing seasons in the Northeast, Open Air Outdoor Cabinetry is the smart choice. These cabinets are designed with you and your needs in mind! Entertain guests and family with the only outdoor cabinets that are sure to shine and stand up to anything.

"Modern kitchen cabinets, customized and built by hand since 1965"
We are excited to announce the addition of Allmilmo Cabinetry to our offerings in 2023! Allmilmo Cabinetry is a fine contemporary line of cabinets featuring sleek, straight lines, a handleless design, and a variety of colors, materials, and finishes. Imported from Germany, these award-winning cabinets are completely custom, with a focus on creating modern kitchens according to each client's vision and requirements. Personalized service includes hand drawn sketches and 3D renderings engineered in Allmilmo's factory in Zeil am Main, Germany.
Contact Somrak And Get Started