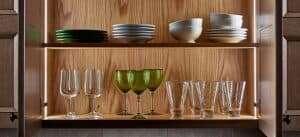 Imagine you are shopping for a new refrigerator and you open one and there are no lights inside. Most people, no matter the savings, would quickly pass that option up and choose a refrigerator with lights because that is what we have grown to expect. You want to see everything in your refrigerator, right? Well why not your cabinets?
The hottest trend in cabinetry now is integrated lighting both on the inside and outside of your cabinetry. When you open up your cabinet door or drawer a light will magically come on (just like in your refrigerator) allowing you to see every last thing you have in that cabinet. Best of all the light is completely integrated into the cabinet, meaning it is completely flush with the cabinet, and no modification to the cabinet is required by the cabinet installer, everything has been prepared when the cabinet is made.
In the past, lighting under the cabinet would require the use of a trim piece that would hide the under cabinet lights. Now the cabinet is routed out at the bottom and when the light is installed it is absolutely flush with the cabinet itself. This same concept can be applied to up lighting as well.
You will also have total control over how warm or cool you want your lighting to be, if you want it dimmable, and the placement of the lights. And with the long life of LED you can rest assured you won't be replacing it anytime soon. Be on the forefront of this new advancement in cabinetry and meet with one of our designers today, so they can show you how integrated cabinet lighting can improve your new kitchen.