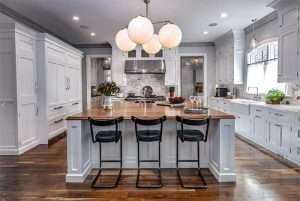 Cooler weather and fall colors are leading to warmer colors and textures as top choices for kitchen remodels. Whether your kitchen renovation is a large remodel or minor alterations, consider incorporating a bit of autumn into cabinets, countertops and appliances.
Cabinets are available in a wide variety of colors today, so it is easy to find warm greens, shades of terracotta and deeper earth tones that fit your vision. If your kitchen is small, choose a warm white for upper cabinets and a darker autumn shaded island.
Appliances are no longer restricted to white, black and stainless. Add a pop of color to any kitchen with a brightly hued range or refrigerator.
A mix of multiple textures is a great way to add depth and warmth to any room, and your kitchen is no exception. Establishing natural surfaces throughout is becoming extremely popular, with wood floors, stone walls and butcher block countertops.
A central island countertop of wood or quartz provides a great texture contrast when combined with cabinets or appliances in a matte finish. Add another level of texture with a kitchen sink in copper or fireclay.
Incorporate a reclaimed or antique piece along with the unexpected armchair for a cozy kitchen that invites a bit of lingering as autumn changes to winter.
Our wide selection of cabinets and professional design team will enable you to enhance the looks and trends you want to see in your kitchen. Meet with our designers today to plan your kitchen remodel.