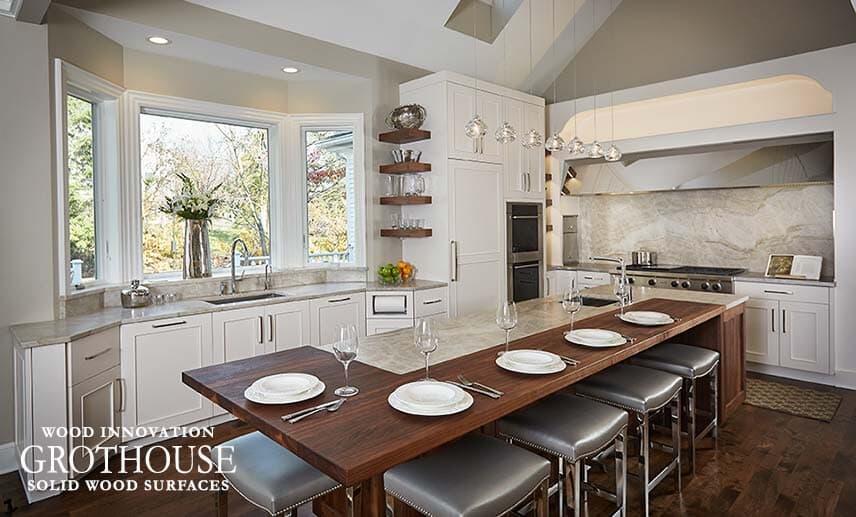 Custom wood countertops are versatile, durable
It may be a desire for a natural, more environmentally friendly feel or it could be nostalgia for that old farmhouse feel of years past, but wood countertops are making a comeback. Unlike laminate, granite and quartz, wood provides a warm surface that brings an old-world atmosphere to even the largest kitchen, and the natural color and texture blends easily with cabinets, flooring and other countertops.
Look for trends to go beyond a butcher block surface for food prep. Homeowners are redesigning kitchens with wood surfaces for large islands or throughout the entire kitchen. They are a great fit as lifestyles tilt toward the natural and organic, and with innovations in surface treatments, your wood countertop is an investment in a long-lasting surface that will need little to no maintenance.
Wood countertops generally require routine maintenance that includes occasional oiling with a food grade mineral oil to keep them looking like new. Scratches, stains or burns that may occur can frequently be repaired using lemon or baking soda. You may take it a step further, however, with the exclusive Durata Finish by Grothouse. This waterproof finish is virtually maintenance-free, providing a surface that is safe for food prep, impervious to most household chemicals, and extremely durable even to standing water.
Best of all, your wood countertop can be customized, from the style to the wood type, so you get exactly the look you want and one that is suitable for your application.
Wood choices and styles
A wide variety of hardwoods are suitable for countertops, providing natural grains, markings and colors that satisfy every look and application in your new kitchen. Your professional designer can also suggest reclaimed wood options that provide a unique flair and are equally durable. Grothouse uses wood salvaged from 18th and 19th century Pennsylvania barns and houses, providing quality and authenticity.
Your style choices include:
Flat grain, or wide plank style—features the grain of the wood, suitable for tabletops
End grain, or butcher block—ends of the wood provide the most durable surface for food prep and cutting
Edge grain—wood strips are laid longways, providing a stable surface for counters
The very latest in innovation
Your professional design team will advise you on design and installation choices, wood choices and finishes that fit your kitchen plans, including the latest options available to truly customize your kitchen.
Look for the latest trend in metal-look kitchen counters with the Anvil line from Grothouse, a coated wood countertop that provides the benefits of both wood and metal. Get the look and feel of a metal countertop with the grain, curves and edging that are only possible with wood.
Call today to begin planning your new kitchen.